Hoe werkt het?
App4Talent is een plug&play systeem, die direct te gebruiken is. Het enige wat je nodig hebt zijn de leerlingen en de docent(en) en praktijkbegeleider(s). Ow ja…wat ook handig is als je weet aan welke competenties, vaardigheden of werkprocessen je leerlingen moeten werken.
De app — leerling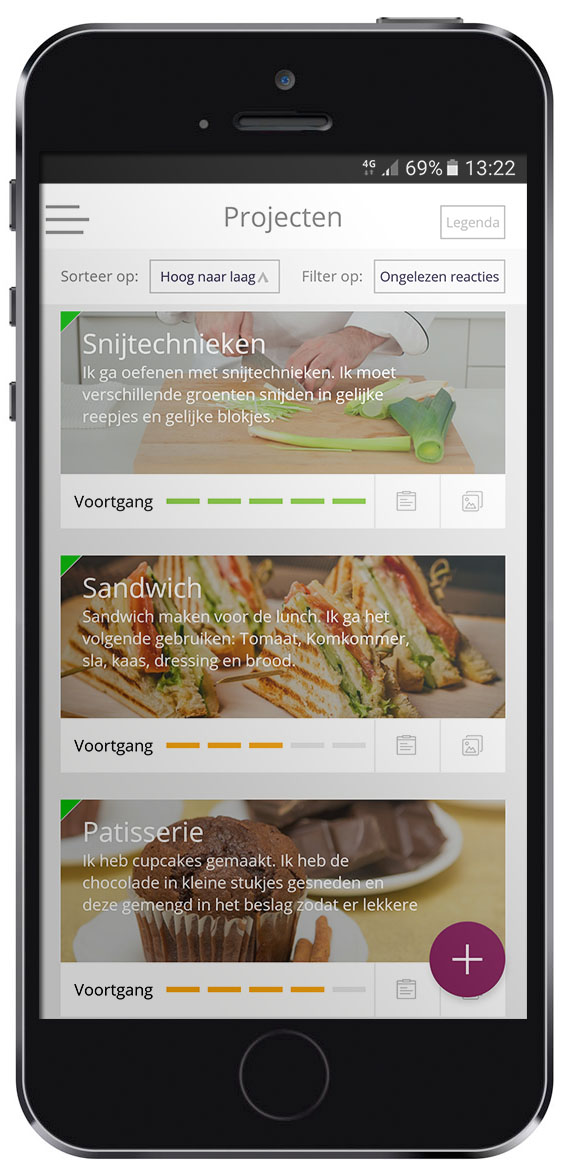 Portfolio
In je portfolio verzamel je projecten van je praktijkvorderingen. Je kunt zelf bepalen welke projecten je inzichtelijk wil maken en welke je liever voor jezelf houdt. Projecten waar je het meest trots op bent en die de talenten en kwaliteiten het beste weergeven, kun je als favoriet markeren waardoor ze zichtbaar worden in
je profiel.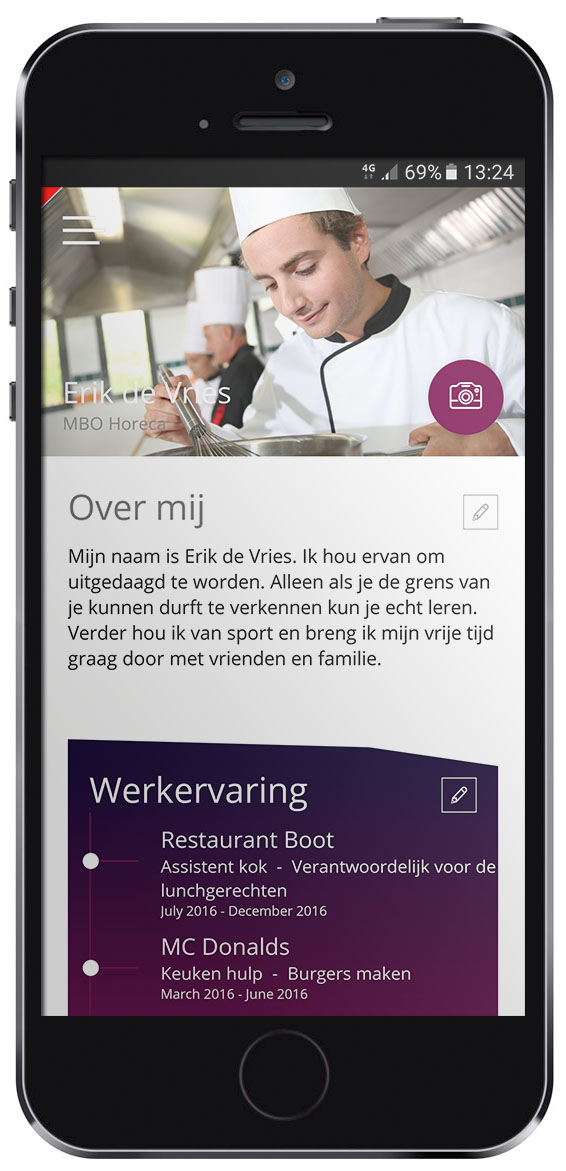 Profiel
Gaande weg bouw je een persoonlijk profiel. In het profiel kun je beschrijven wie je bent. Daarnaast geeft het profiel een overzicht van je werkervaringen, favoriete bewijsstukken en leerlijnen. Tot slot wordt het profiel afgesloten met aanbevelingen van praktijk-
begeleiders en/of werkgevers.
Het profiel is geschikt om bij sollicitatiegesprekken te gebruiken.
Bewijsstukken
In de app beschrijf je wat je doet en wat je kunt door projecten aan te maken. Je beschrijft eerst wat je gaat doen. Daarna koppel je een leerlijn aan het project. Tijdens het uitvoeren van het project maak je foto's of video's van het proces en natuurlijk een foto van het eindresultaat. Wanneer het project klaar is, reflecteer je op jouw project. De docent sluit af met zijn feedback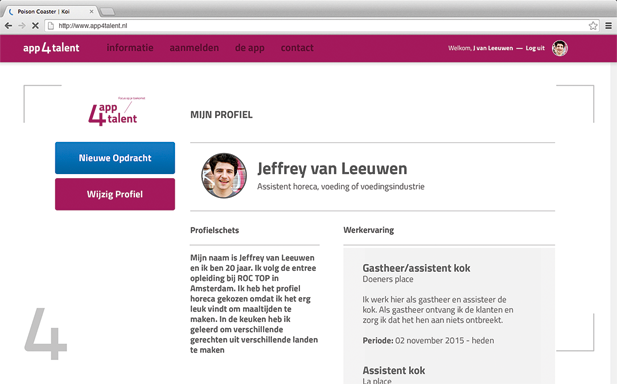 Web — student
Naast de app kun je ook gebruikmaken van de webversie.
In de webversie kun je alles doen wat je in de app ook kunt doen. Werk je liever achter een computer dan kan dat dus.
De webversie geeft in één overzicht het profiel goed weer. Tevens krijg je met de webversie een duidelijk overzicht van de leerlijnen waaraan je hebt gewerkt en van welke leerlijnen nog de nodige aandacht moeten krijgen.